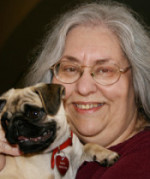 Family history will be lost if we don't make a point of preserving it.  Even if your family isn't interested in reading the story of your family right now, at some future time, the chance to collect the information will be lost.  It may not always be there for the taking.  We never know when an unexpected event, the unavailability of records and documentation, or the passing of a treasured family member will change the opportunity to save our history forever.  Do it now, while you can.
Ever since I was a small child, I have had an ongoing love affair with books.  I spent many hours reading, and my favorite books were always true stories about real people.
My name is Sheila, and working with authors of genealogy, family history, and life memoir books is my passion.  I lead the team at Genealogy Book Publisher.
Why do I do what I do?  I am absolutely convinced that preserving the stories of our families is important enough to do it right.
My journey into genealogical and family history books really began when my own lifelong search for my birth mother led me to a half-sibling I had never met, and did not know I had!  For me, it was simply a miracle.  The results of that search changed my life in ways I can't begin to list.  I already had a number of years of experience working with authors as a book designer, but it did not take long to realize that family histories was my calling.
One of the very first family historians I worked with had spent almost 30 years completing a manuscript containing her family history, complete with some truly marvelous stories that had been passed down from generation to generation.  When she contacted me about producing her book, she chuckled when she said it had been written through 3 marriages and 3 careers!  I read her manuscript, all 500 pages of it.  The stories were amazing.  The author couldn't wait to surprise the family members who knew she had been working on it just about forever.  She didn't tell them she was completing it, but she planned to give each of them a copy at their annual reunion.  She wanted someone to produce her book who would give it the care it deserved, because it had taken half of her life to finish it.  She wanted something unique, not like every other book she had seen.  She wanted to leave a lasting legacy for her family, tell the stories before they were lost, and preserve them for future generations.  She knew the only way to do it was in a book that could be passed down to her children and grandchildren.  She wanted something "extra-special."
The first time she held her book in her hands, she turned it over, flipped through it, and held it tightly.  She looked at the cover in disbelief, because to her, it represented the completion of a life's dream … telling the story of her family.  I was honored and blessed to have been part of her publishing experience, and I was as excited as she was when she began to travel the country to share the book.  200 copies of her book later, she will never forget the experience.
You may not need 200 copies; you may only need 25 or 50 copies.  You may want to enlist the help of other family to help you assemble the pieces you want to include, or you may want to keep it a surprise and announce it at a family reunion.  In any case, telling the story will give you a feeling of accomplishment, and often, help you put your life and your memories in a form that can easily be shared with your children, grandchildren, and generations to come.  Many authors have told me that finally seeing their family stories in book form was the culmination of a life's dream.  One author stated that it "exceeded her vision."  To read comments by several authors, please visit the Testimonials page.  Each one has described their own experience, and what it meant personally to them.
Give your book the attention it deserves; more than just a quick once-over.  We offer so much more than just printing your book, as we will help you take the pieces of your book and make it wonderful to see and hold, as well as a joy to read.  There are no templates, and each book is an original product, not exactly like any other book.
With so much of our culture moving toward digital formats, you may be wondering if it's still worth the effort to preserve a family history in printed form.  I personally believe print will remain a viable reading medium for many years to come, and a book produced with quality in mind will continue to make you proud for a long time.
I handle each book project personally.  I hold an earned Bachelor of Fine Arts in Art and Music from an accredited 4-year university, and have had more than 25 years of professional design and publications, business writing and corporate marketing/communications experience.  In addition to fine arts endeavors, I participate in local and national organizations with links to genealogy, history, and publishing.  My current and past professional memberships include the Association of Personal Historians (APH), Association of Professional Genealogists (APG) , and The International Association of Business Communicators (IABC).  In addition, I serve on the volunteer board of Merrill's Marauders Proud Descendants, an organization that honors the memory of a very unique group of World War II heroes.
I would love to have an opportunity to visit with you about your own family history, memoir, or genealogy book project.  Please let me know if you have questions, comments, or need help by completing the Contact Form.
Together, we will craft a custom piece of family history that you can enjoy for years to come.